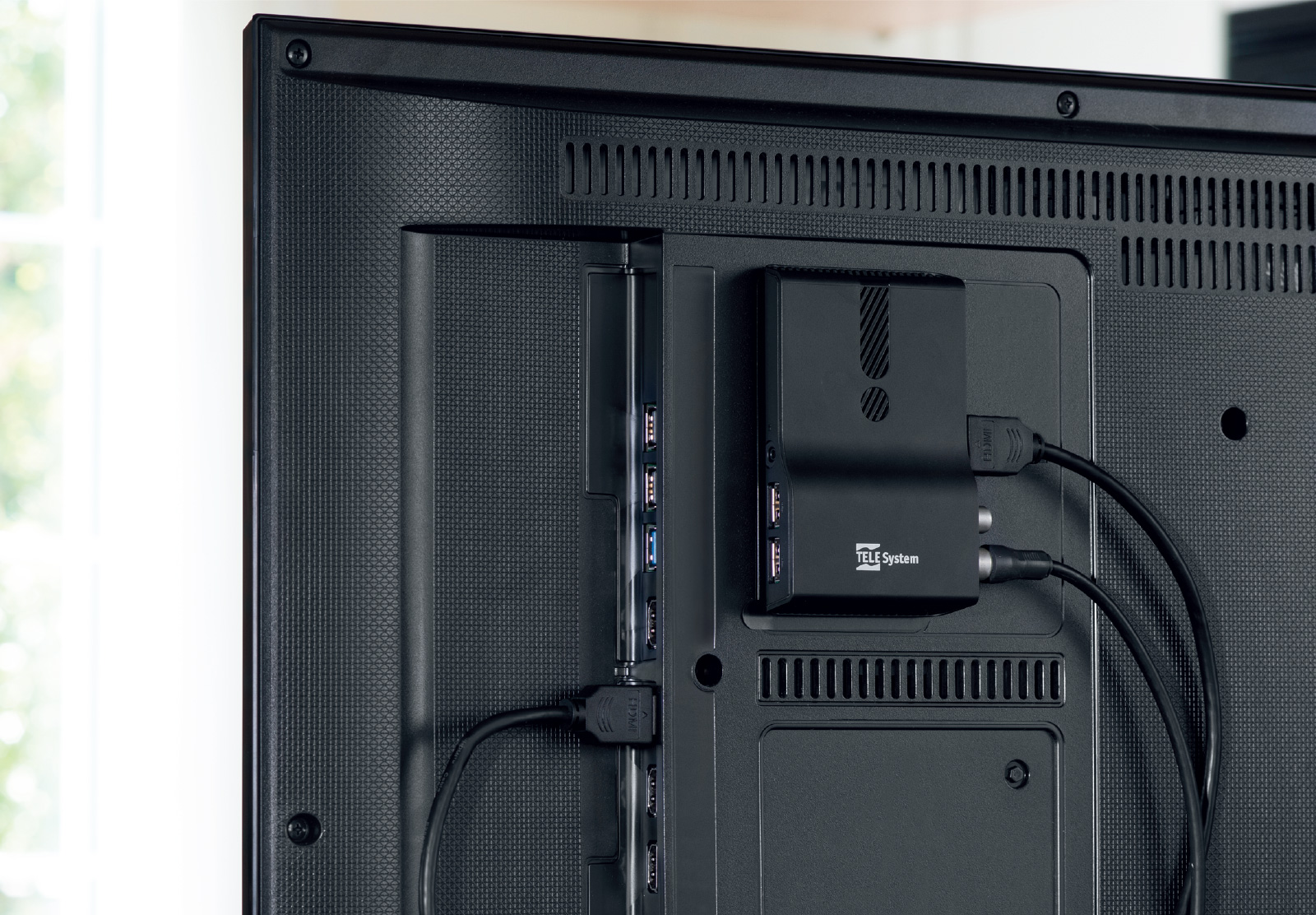 TELE System introduces the solution to switch your actual TV in a 3rd generation TV.
The Digital Terrestrial Decoder TS6810 T2 Stealth could be connected to the HDMI port of your TV providing the possibility to receive also all contents broadcasted in DVB-T2 HEVC technology. Once installed on the rear panel of your TV trough the provided adhesive holder, 
You'll forget to have it thanks to the universal remote control (decoder/TV). Furthermore, connecting a HDD trough the USB port, will be possible to record your favourite programs and movies just clicking on REC & PLAY key. Furthermore the TS6810T2 Stealth is also a multimedia player and can be used to play music, photos and videos directly on your TV.
The LCN "Logical Channel Number" function sorts the channel list in a logic and automatic way, while the EPG "Electronic Program Guide" will provide always updated information. Remote control Decoder/TV included.
Technical specification
Digital Terrestrial Decoder DVB-T / T2

High Definition MPEG-2, MPEG-4 H264/AVC - H.265/HEVC decoding

Supported video formats: 576i, 720p, 1080i, 1080P

Automatic and manual channels scan

Automatic channels sorting (LCN)

Electronic Program Guide (EPG)

Teletext and subtitles

4 favourite channel lists

Recording and switching-off timers

Recording and Timeshift (USB PVR)

Media Player via USB (compatible H.265)

Software update via USB

Automatic switching-on after black out

Antenna power supply 12V DC 1A

Universal remote control 2 in 1

HDMI cable included into the giftbox

Dimensions (mm): 116x81x23
Audio
Mpeg1 (Layer I/II/III), Mpeg2(Layer I/II), Dolby D, Dolby D+, HE-AACv1, MP3
Video
Standard: Mpeg2, Mpeg4 H.264/AVC - H.265/HEVC
Formats: 4:3, 16:9
Resolution: max 1080p@50Hz
Inputs / Outputs
HDMI
Antenna IN
Antenna out Loop Through
USB x 2
Codici
TS6810 T2 Stealth: cod. 21005255
TS6810RF T2 Stealth: cod. 21005266