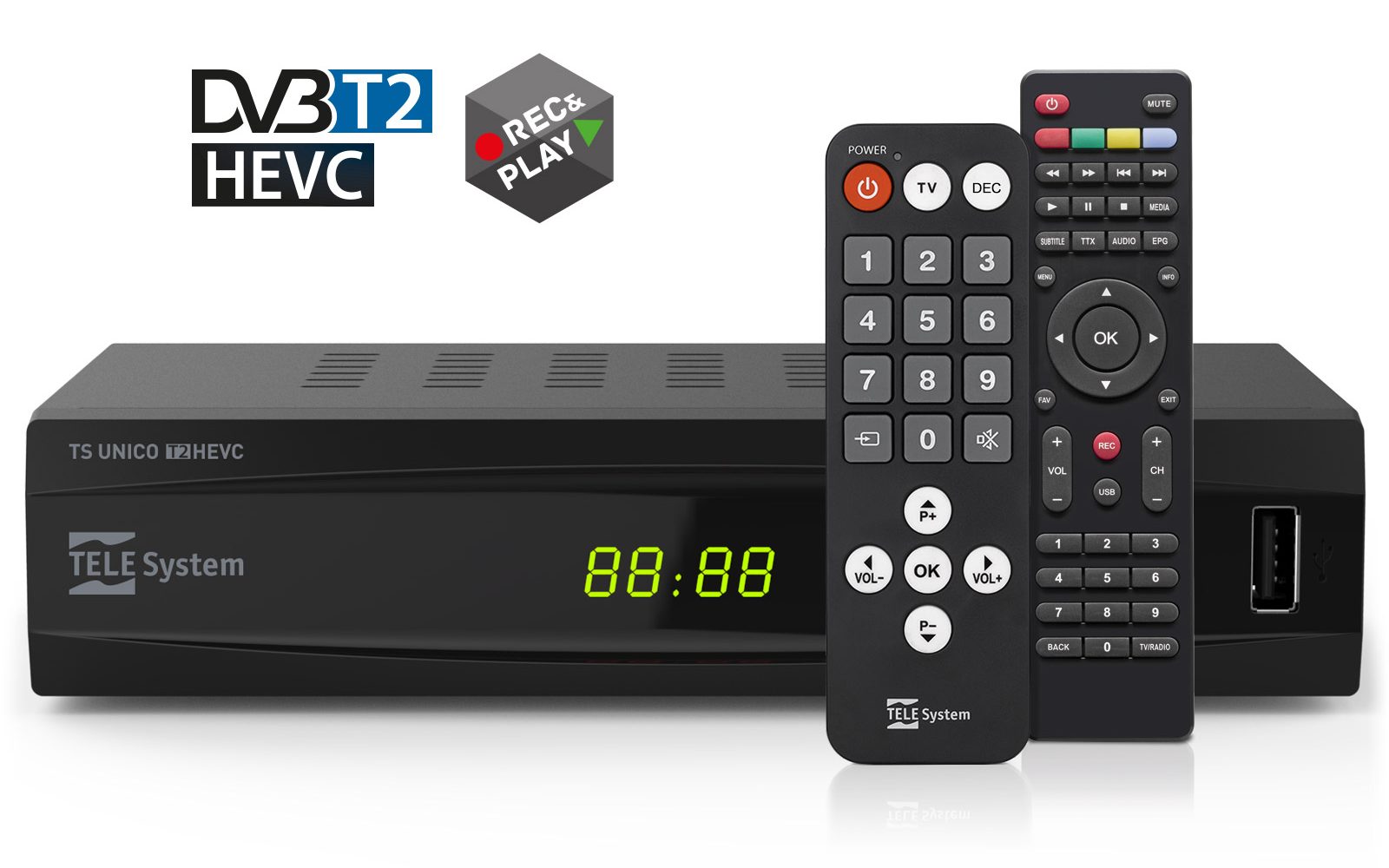 HD H.265 receiver, Video recorder and Media player with 2 RCUs
TELE System presenta il Ricevitore Digitale Terrestre di 3° generazione TS UNICO T2HEVC il decoder che coniuga tecnologia ai massimi livelli ed estrema semplicità d'uso.
Pronto per ricevere i futuri programmi nello standard DVB-T2 è dotato di due telecomandi: uno standard ed uno semplificato decoder/TV con tasti più grandi e funzioni limitate per le persone più anziane.
Collegando un hard disk o una pen drive attraverso la porta USB posta sulla parte frontale del box, potrai registrare i tuoi programmi e film preferiti grazie alla funzione REC & PLAY che con la semplice pressione di un tasto, ti permette di attivare una registrazione o di programmarle con estrema facilità.
Inoltre TS UNICO T2HEVC si trasforma all'occorrenza in lettore multimediale per riprodurre musica, foto e video direttamente sul TV di casa anche con compressione Mpeg4 H.265.
La funzione LCN "Logical Channel Number", ordina in modo logico e automatico la lista canali mentre l'EPG "Electronic Program Guide" ti offre una guida ai programmi continuamente aggiornata.
Technical specification
DVB-T / T2 High Definition MPEG-2, MPEG-4 H264/AVC - H.265/HEVC decoding
Video formats: 576i, 720p, 1080i, 1080P
Channel Search: auto and manual
LCN: Logical Channel numbering
EPG: Electronic program guide
Teletext / Subtitles
4 Favorite lists
7-Segment Display / 4-Digit
Timers
USB DVR: digital video recording and Time shift
USB Media Player (H.265 compatible)
Auto software update (OTA or USB)
Black out auto-recovery
Standard RCU + Easy universal RCU
Size (mm): 168x90x36
Audio codec
Mpeg1 (Layer I/II/III), Mpeg2(Layer I/II), Dolby D, Dolby D+, HE-AACv1, MP3
Video codec
Standard: Mpeg2, Mpeg4 H.264/AVC - H.265/HEVC
Formats: 4:3, 16:9
Max resolution. 1080p@50Hz
Input / Output
HDMI 1.4
SCART
Coaxial SPDIF
Antenna Loop Through
USB
Art. code